KOBFS - Lufo
Objectives
The reduction of process times in additive manufacturing is a major focus of research. The aim of the investigation was to reduce the time, required for a process route, of the additive manufacturing process for the Ti6Al4V titanium alloy with subsequent HIP process.
Procedure
Therefore, this study pursues comprehensive investigations on the mechanical properties of the titanium alloy TiAl6V4, which was processed in an optimized process chain. By optimizing the process parameters, the production speed is drastically increased, the process-induced defects are adjusted in a controlled manner and eliminated by thermal post-treatment (HIP). The result is a faster processability of the titanium alloy and thus better economic efficiency. A HighSpeed parameter window was determined during singletrack tests. Subsequently, mechanical characteristic values of the specimens are determined in tensile tests and fatigue tests. Both static and dynamic measurement results are very sufficient in comparison to the conventional route.
Achievements
The exposure time during the additive manufacturing process was reduced to 50%. The subsequent HIP treatment also reduces pores up to approx. 6%. Compared to samples that were not generated with high-speed parameters, the mechanical characteristics are identical. In addition, the HighSpeed parameter does not generate any increased residual stresses in the component. This leads to a process time reduction of around 25%. These were validated with a gimbal specimen whose process time could be reduced from 49 hours to 38 hours.
Contact
Institut für Leichtbau mit Hybridsystemen (ILH)

Vorstandsvorsitzender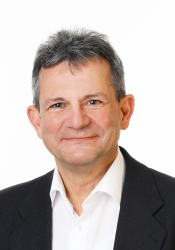 Leichtbau im Automobil

Team leader Additive Manufacturing