Innovative AM optimization
Objectives
In order to save resources and adapt parts better to their requirements, companies are focusing on part optimization for lightweight design. Unfortunately, the existing software for topology optimization is characterized by several shortcomings: Modeling is a lengthy, labor-intensive process, the computing time is long and extensive expertise and manual reworking is required. Usually several software tools are needed to achieve a satisfying result. However, these software tools are not aligned to an AM-specific design and the transition between the various tools results in errors and reduces the quality of results. The aim was therefore to develop a dedicated software solution for automated topology optimization with integrated retransition into proper, additive manufacturable geometries. The result is a software called AMendate, which will soon be available on the market and offers topology optimization, automated in one single solution, from CAD to CAD.
Procedure and Achievements
Instead of a polygon-based approach, the software is based on an innovative voxel grid, which enables a multitude of unique selling points: The model is created automatically, a high resolution can be achieved and the resolution can be varied within the optimization calculation. This results in highly complex, optimal structures. An intelligent smoothing algorithm automatically transfers the voxel result to smooth surfaces. The result requires neither further interpretation nor further engineering. The optimization algorithm automatically takes into account all relevant design rules for additive manufacturing for a directly printable result. This gives the user a better result much faster and more cost-effectively. Time savings of up to 80% can be achieved by eliminating and automating several time-consuming process steps. The automated and integrated topology optimization enables an optimization from CAD to CAD within hours instead of days. The newly developed software and its innovative approach enable considerable speed growth. This is driven by a software architecture that fully utilizes the computing power of current high-tech graphics cards and the seamless, automatic workflow. Another significant advantage is the direct stress oriented optimization, which provides better optimization results and a balanced stress distribution over the entire component. This makes AMendate a significant step towards the automated design of optimized parts, which will promote the introduction of additive manufacturing in other industries.
Contact
Computeranwendung und Integration in Konstruktion und Planung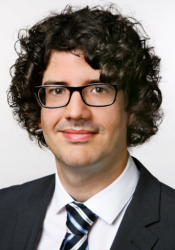 Computeranwendung und Integration in Konstruktion und Planung